This message is only visible to admins
Please connect a business account on the Instagram Feed settings page in order to display hashtag feeds
Please see this post for more information.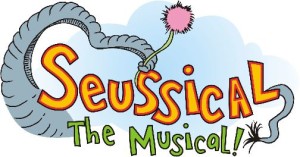 Seussical brings to life characters created by Dr. Seuss — Theodor Seuss Geisel (1904-1991) — ranging from the Cat in the Hat to Horton the Elephant. It will be staged at the Greenwood Christian Academy's Auditorium for three shows Friday, April 19, through Sunday, April 21.
 Seussical features music and lyrics by the Tony-winning team of Lynn Ahrens and Stephen Flaherty, who also wrote "Ragtime" and "Once on This Island." The show ran for six months on Broadway beginning in 2000 for a total of 198 performances.
"This musical is a lot different from others that we've done," said senior Wes Williams who plays Horton. "There's more music than there is dialog. It's pretty much music throughout the whole show, except for like two breaks."
The Cat in the Hat is the musical's narrator. It's played by senior Jacob Richards. "The cat is very mischievous," he said. "There are different problems that go on throughout the show which drives the story. I'm the one who causes all of those problems."
The plot of the story uses nineteen Dr. Seuss books. When the sweet, good-natured elephant Horton hears a small cry for help coming from a small speck of dust, he promises to rescue and guard it because "a person's a person, no matter how small."
On that small speck of dust lives JoJo, an imaginative young Who. JoJo has astounding "thinks," in which anything's possible, but her parents believe this creativity is inappropriate for the daughter of the Mayor of Who-Ville.
Meanwhile, the one-feathered bird, Miss Gertrude McFuzz, desperately wants Horton to notice her. Maybe, she thinks, she just needs a more impressive tail. At the same time, the amazingly lazy Mayzie La Bird connives, cajoles and convinces Horton to sit on her egg while she goes off on a spree.
Richards said he uses "characters as tools" to tell the story. Those characters include Jojo, a Who child sent off to military school for thinking too many "thinks," Mayzie the Bird, Gertrude McFuzz, and the Sour Kangaroo.
Senior Callie Shehorn plays the Sour Kangaroo, the musical's main antagonist. "The character is supposed to be really sassy who has an attitude," Shehorn said. "She doesn't like Horton the elephant very much." Seussical is giving the students a chance to review their Dr. Seuss books.
"This is a challenge because there are usually 14-15 songs in a musical and this one has over 35." Melanie Mobley, a junior, has been doing the choreography at Greenwood since she was in seventh grade and is also the student director.  "I do not believe I have seen a more gifted, humble student in theater in my 15 years of teaching" said Mr. Hardwick.  "We would not be doing Seussical if it were not for Melanie.  She has an amazing aptitude to create choreography that all can do and do while singing.  There are not many adults that can do what she does"
Will the planet of Who survive? Will Horton pay attention to Gertrude? Will Maysie ever return for her egg? Dr. Seuss's beloved classic characters find themselves intertwined in an incredible crazy-quilt adventure, in which the power of imagination and the most miraculous "think" ever save the day! Find out on April 19-21 at Greenwood Christian Academy, 835 W. Worthsville Road, Greenwood Indiana
■       ■       ■
The cast of Seussical at Greenwood Christian Academy
| | |
| --- | --- |
|   |   |
| Cat in the Hat | Jacob R |
| Horton | Wes |
| Gertrude | Katheryn |
| Mazie | Ashlynne |
| Sour Kangaroo | Callie |
| Mr. Mayor | Landon S |
| Mrs. Mayor | Kierra |
| General Schmidtz | Michael |
| Jojo | Mel |
| Bird Girl | Claire |
| Bird Girl | Kelly |
| Bird Girl | Courtney |
| Thing 1 | Sarah |
| Thing 2 | Noah |
| Wickersham | Landon C |
| Wickersham | Viktoria |
| Wickersham | Bryce |
| Yertle the Turtle | Sarah |
| Cindy Lou Who/Cadet Song 9 | Emma M |
| Cit/Circus/Cadet/Fish/Hunch | Katelyn |
| Cit/Circus/Cadet/Fish/Hunch | Lexi |
| Cit/Circus/Cadet/Fish/Hunch | Liv |
| Cit/Circus/Cadet/Fish/Hunch | Sarah |
| Cit/Circus/Cadet/Fish/Hunch | Taylor P |
| Cit/Circus/Cadet/Fish/Hunch | Shekina |
| Cit/Circus/Cadet/Fish/Hunch | Sydnee |
| Cit/Circus | Jacob H |
| Grinch | Jacob H |
| Vlad Vladikoff | Ben |
| Who/Cadet Song 9 | Ben |
| Who/Cadet Song 9 | Emma H |
| Who/Cadet Song 9 | Kate |
| Who/Cadet Song 9 | Lauren |
| Who/Cadet Song 9 | Mary |
| Who/Cadet Song 9 | Noah |