This message is only visible to admins
Please connect a business account on the Instagram Feed settings page in order to display hashtag feeds
Please see this post for more information.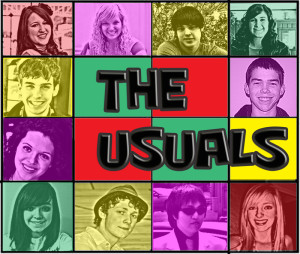 written by Kevin Jackson
"The Usuals!" follows a young Midwestern rock band that makes it big with their debut album. The five band members (Velvet, Whit, Page, Tom and Kramer) have spent their lives pursuing glory, money and power. When they obtain all three, they struggle to maintain balance in their lives and find that glory, money and power do not solve all of their problems…they only seem to create more. Only Whit is willing to voice her discontent with the band's new life, recognizing the void that remains unfilled.
While The Usuals are rising to fame, a feisty young woman named Elaine is struggling with her purpose in life, attempting to maintain her passion as she becomes bogged down in committee meetings and the hypocrisy and indifference of some of the board members. When Elaine wins a radio contest and gets to meet The Usuals after a concert, she crosses paths with Whit and shares her faith in Jesus. "The Usuals!" tells the story of what can happen when people are willing to step out in their faith and allow God to work fully in their lives.
| | | |
| --- | --- | --- |
| Whit | | Bekah Slagle |
| Elaine | | Meredith Schellin |
| Velvet | | Wren Hardwick |
| Kennedy | | Wendy Brown |
| Tom | | Jeremy Holden |
| Page | | Paige  Williams |
| David | | Prescott  Broscoe |
| T-Bone | | Rick Davenport |
| Joan | | Kierra Weber |
| Red | | Megan Ruggles |
| Rosie | | Stephanie McQueen |
| Mal | | Vanessa Van |
| Stephanie | | Jessica Pence |
| Ish | | Eli Vida |
| Kramer | | Jon Maurer |
| Kris Funk | | Drew Swearingen |
| Funky Kris | | Jacob Richards |
| Video Director | | Michael Hodson |
| Ryan | | Zach Jones |
| Ch 1 | | Callie Shehorn |
| Ch2 | | Wes Williams |
| Ch3 | | Ashlynne Keller |
| Fan1 | | Kathryn Grissom |
| Fan2 | | Allie Russell |
| Fan3 | | Kelly Eby |
| Fan 4 | | McKenzie Burton |
| Fan 5 | | Jacob Richards |
| Fan 6 | | Drew Swearingen |