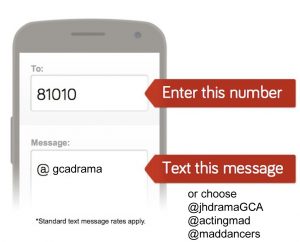 GCAdrama will now have an UPDATE system built in to each aspect of the program.  Remind 101 is a FREE service, but standard messaging rates apply.  Your information will remain private!  Parents should feel free to join!
There are 2 ways to sign up:
Follow the appropiate link to sign up on the computer.

JH Drama @jhdramaGCA
HS Drama @gcadrama
Madrigal Actors @actingmad
Madrigal Dancers @maddancers
Madrigal Singers @mrstaubi

Tell people to text @jhdramagca to the number 81010
They'll receive a welcome text from Remind.
If anyone has trouble with 81010, they can try texting @jhdramagca to (812) 258-9026.