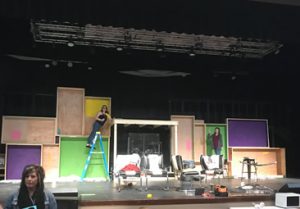 First Quarter
Week 1:  Introduction.  Types of stages, theater hierarchy, areas of the stage, parts of a stage
Week 2:  Script Analysis of play to be worked on.  (PTT Set Design, PTT Lighting Design)
Week 3:  Set Construction.  Theater and tool safety, materials, and safety test.
Week 4:  Building practical scenery units.
Week 5, 6 and 7:  Building flats, joining flats, working on set. Paint set.  Trim out set.
Week 9:  Introduction to Lighting, how to safely work with lighting equipment.  Review for quarter final and administer quarter final exam.
Second Quarter
Week 1:  How to safely strike a set.  Strike set for last show.  Begin stage management unit.
Week 2 and 3:  Stage Management.
Week 4:  Audio:  Types of audio equipment, set up and run wireless and wired mics, set up audio for a production or concert.
Week 5 and 7:  Set Design.  Script analysis, tricks of the trade, analysis of actual set, design and build scale model of a play.
Weeks 7 and 8:  Lighting Design.    Script analysis, look at lighting for 2 different plays in different theaters, common equipment, patching and cueing, manual and computerized controllers.
Weeks 9:  Review for final, and administer semester final exam.  Theater clean-up.